HEY.
Have you always wanted to give me money but couldn't think of a good enough excuse to do so? Well the wait is over! : D
If you have a paypal account, you can send me money over the internet, and I'll draw the things that you tell me to! Then send them to you! Doesn't that sound amazing??
Here are some of the wonderful options that you can give me money for, along with how many USD you should send me, probably!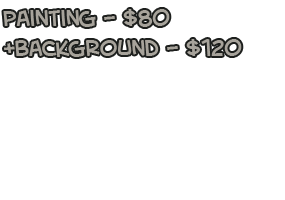 Send me a note if you're interested, and I'll have a chat with you about what you'd like drawn. :] I will get back to you as soon as I can, but if I don't manage for a while, my list is full or I'm away from the internet.
High res images can be provided, but sketches are done significantly lower than print resolution. I do ask for payment in advance, but you are welcome to request a sketch for confirmation before you pay for the more involved items. :]
Cheers! :]